Backup4all Monitor
Remote monitoring for your backups
About Backup4all Monitor
Short Overview of Backup4all Monitor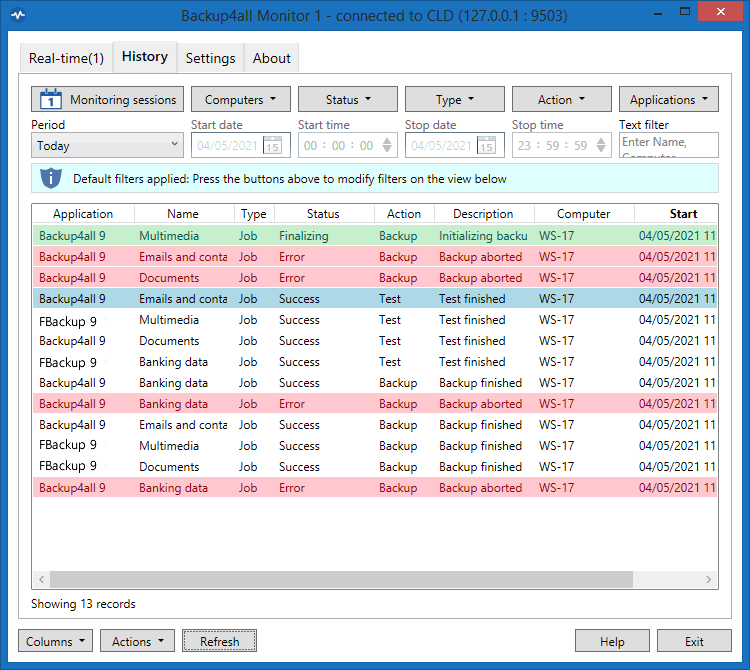 Backup4all Monitor provides realtime and historical monitoring for actions executed by FBackup or Backup4all on remote machines. You can monitor remotely backup/test/restore & cleanup job actions from any client computer that has Backup4all or FBackup installed.
Backup4all Monitor is compatible with the following operating systems: Windows 11, 10, 8, 7, Vista, Server 2022/2019/2016/2012/2008 (32/64-bits)
The Backup4all Monitor has two components:
Backup4all Monitor Server. The monitoring server gathers the monitoring information sent to it from all the client computers that have Backup4all or FBackup installed and configured to send data. Only details about job actions are sent (backup, restore, test, cleanup). The server can be installed in your own network or on cloud servers such as Amazon S3/Azure.
Backup4all Monitor Dashboard. The dashboard provides a graphical user interface for analyzing the data stored and managed by the Backup4all Monitor Server. It can be installed on the same computer as the monitor server, or on different computers as it's able to connect remotely. The dashboard is free to use/distribute, thus you can install it on as many computers as you need.
Samouczki wideo
See How Backup4all Monitor Works
Główne cechy
Here are some key features you get by installing it
Realtime Data
See in realtime the status of the current running jobs recorded from all Backup4all clients connected to the server. It monitors backup & restore jobs as well as test and cleanup operations.

For each monitored action you can see its status, start date, and detailed information (i.e. description, computer). You can filter the monitored actions by date, status, type, action and much more.
Remote Monitoring
The monitoring server can be installed locally within your own network, or it can be installed in the cloud or on a remote destination. This way every desktop, laptop or server computer with Backup4all installed and configured can send reports to the monitoring server.

The Backup4all Monitor dashboard can then be installed separately so you can monitor the actions remotely from any location, as long as you have Internet access.
Monitoring History
Aside realtime monitoring, the Backup4all Monitor can store historical details for every action that ran on the monitored clients. Each monitoring session contains full details and can be filtered by date/time, statuses, actions and more.

The monitoring history helps administrators by recording the statuses of each backup/restore/test or cleanup actions done on the monitored computers.
Zrzuty ekranu
Screenshots of Backup4all Monitor under Windows 10
Backup4all Monitor
Download & Rate Backup4all Monitor